3 Night Minke Whale and Ribbon Reef Trip (June/July)
DIVE LEVEL: Our Cairns Minke Whale trip is suitable for snorkellers. No dive experience or certification is required.
DEPARTS: Cairns 11.30 am Thursday RETURNS: Cairns 12:00 noon Sunday
DIVES: Up to 11 dives, with focus on in-water swim time with Minke Whales when located.
There are few opportunities in a lifetime where you can experience the thrill of sharing the water with a creature as magnificent as a whale. Spirit of Freedom, as an endorsed tourism operator, hold a permit from Great Barrier Reef Marine Park Authority to offer a Swimming with Minke Whales activity. We are also a contributor to the ongoing research conducted by the Minke Whale Project, and assist with their multi-disciplinary research into dwarf minke whale biology and behaviour.
During the months of June and July, divers and snorkellers may have the opportunity to interact with dwarf minke whales in the warm waters of the Great Barrier Reef. This is a unique and remarkable encounter. Our Swimming with Minke Whale trip is a modified version of our 3 Night Cod Hole Liveaboard Dive Trip. We spend plenty of time exploring the amazing dive sites of the remote Ribbon Reef, with an underlying focus at all times to maximise potential in-water encounters with the whales.
When operating, these tours begin on a Thursday, departing from Cairns and heading north to the rarely visited Ribbon Reefs. Over two and half days you will have the opportunity for up to 11 dives. The number of dives is dependent on how much in-water swim time swimming with Minke Whales as the whales allow. Your last night is spent on board the Spirit of Freedom in the bay at Lizard Island. Enjoy time ashore at Lizard Island the next morning, before boarding your return flight to Cairns. The one-hour flight back will bring you back to Cairns around 12:00pm on Sunday.
See the full itinerary below for more details.
This trip includes daily cabin service and chef-prepared gourmet meals (see your sample menu for details). Complimentary Australian wine or soft drinks are served with evening meals.
Special Expedition: These tours are strictly seasonal, to coincide with the whales' migration. Swimming with Minke Whales is a strictly controlled activity. Guests must follow crew instructions at all times.
Our Cairns Minke Whale trip prices are per person in AUD$ and include:
Chef-prepared meals & snacks, wine and soft drinks are included with the evening meal
Tanks, air fills, Nautilus Lifeline and weight belt. Full equipment rental available.
Daily cabin service.
Cairns hotel or Airport transfers.
GST and all reef levies and fees.
The Spirit of Freedom courtesy bus will pick you up from your Cairns hotel around 10:30am to transfer you to Trinity Wharf. There you will be greeted by the Spirit of Freedom crew, who will give you an orientation of the vessel before departing at 11.30 am.
Enjoy lunch on board while we cruise to the Outer Great Barrier Reef for an afternoon check-out dive and a twilight or night dive.
After dinner, we cruise north to the Ribbon Reefs and begin our Cairns Minke Whale trip adventure!
These two days are spent diving at the most northern of the Ribbon Reefs, Number 9 & 10 Ribbon Reefs.
Dive sites and sequence may vary depending on the weather conditions, but will always include at least one dive at the Cod Hole, where you encounter a family of massive and very friendly Potato Cod. Other sites may include Wonder-wall, Pixie Pinnacle, Challenger Bay, Two Towers, Lighthouse Bommie, and the Snake Pit, just to name a few.
If the current is right, you may also take a drift dive at Dynamite Pass, well know as a channel for sharks to pass through. Visit our Ribbon Reefs page to learn more about our dive sites on the Ribbon Reefs. 4 to 5 dives will be available each day, including a night dive on the Friday. On Saturday evening we overnight at Watson's Bay, Lizard Island, and enjoy a sunset BBQ dinner on the top deck.
This morning after breakfast you will disembark and say farewell to Spirit of Freedom. On shore, at Lizard Island, you can take the guided walk from Watson's Beach to Mary Watson's cottage over Chinaman's Ridge and back to the air-strip. Here you will board a light aircraft for your flight back to Cairns. The one-hour flight arrives at Hinterland Aviation, Cairns General Aviation Airport around 11.15 to 11:45 am, where the Spirit of Freedom courtesy coach will meet you for your transfer back to your Cairns city hotel.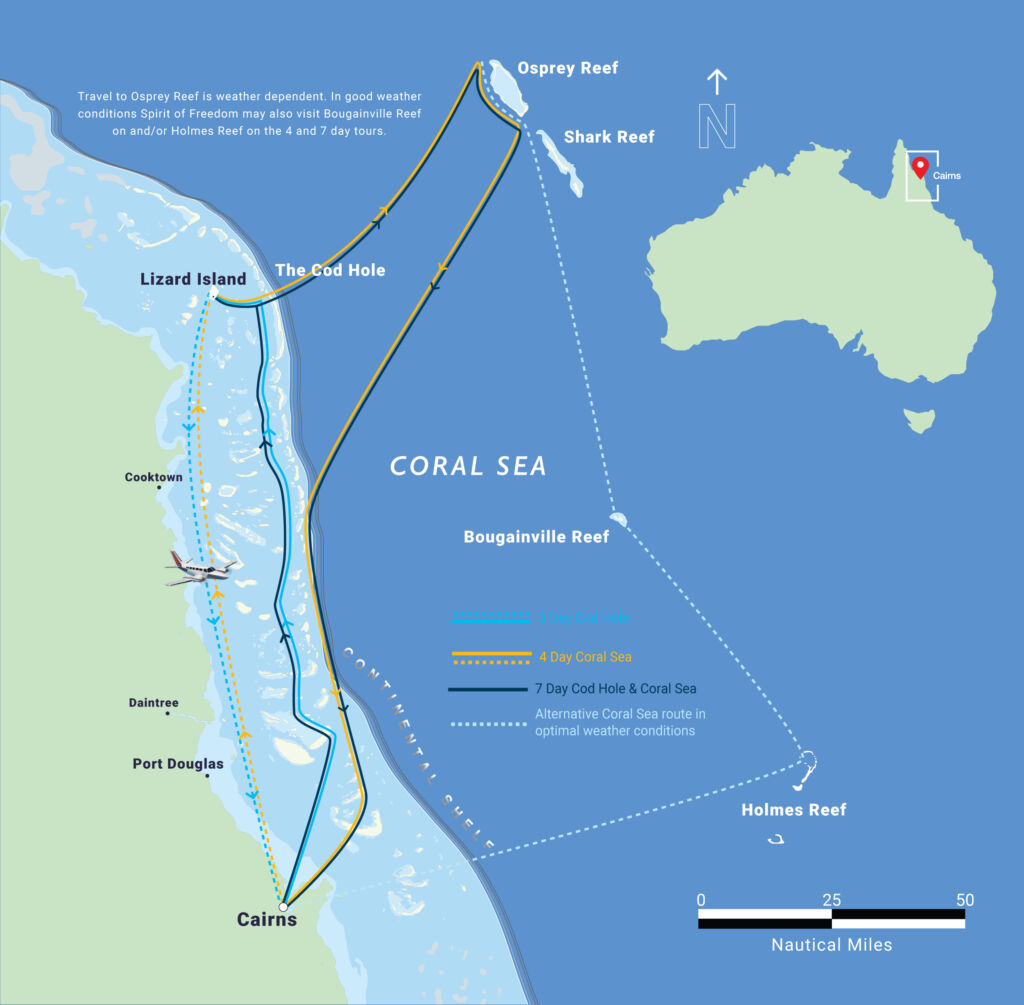 Frequently Asked Questions (FAQ)