Diving Seasons - Great Barrier Reef

Spirit of Freedom operates in the northern sector of the Great Barrier Reef, a tropical zone with relatively warm temperate winters and high humidity in the summers.
Water temperatures range from 24°C/75°F in the winter, peaking at 30°C/ 86°F in the summer, while maximum air temperatures range from 24°C/75°F to 32°C/90°F.
Australian seasons are the reverse of the northern hemisphere. Our summer is December through February, and winter is June through August. In Tropical North Queensland rain is not uncommon between January and April, and you will find Cairns and the surrounding mountains to be lush and green with the rivers and waterfalls at their peak.
While monsoonal troughs can descend at this time, the areas offshore and further north of Cairns (where you will be diving with Spirit of Freedom) are less prone to the tropical rains. May to December is known as the dry season, with less humidity and generally clear sunny days.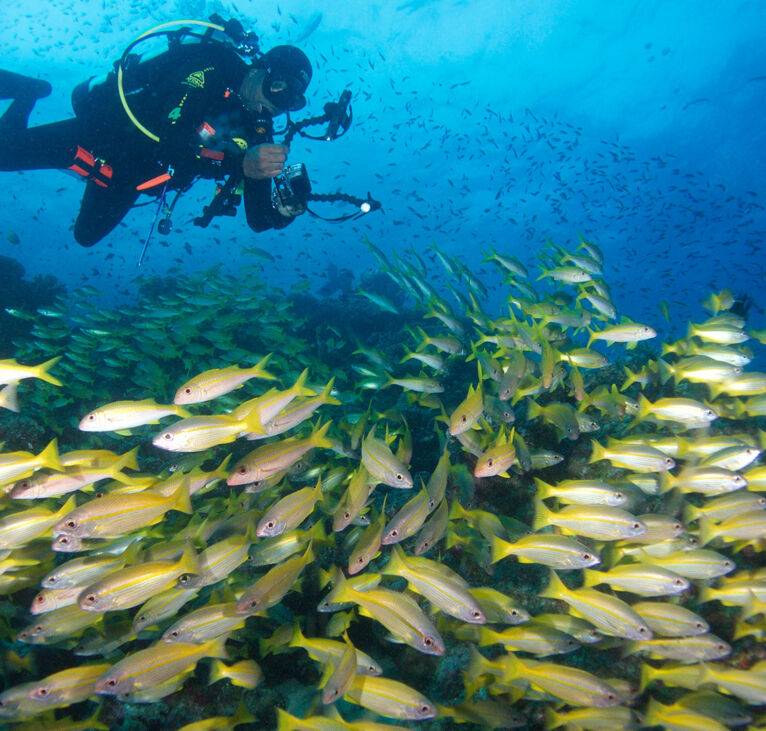 May through August is mostly sunny and clear of rain, although the south-easterly trade winds can be a bit stronger at this time. Air temperatures range from 15°C/ 60°F to around 26°C/ 79°F. The water will be at its coolest, dropping to around 24°C/ 75°F, but generally offers great visibility.
In the months of June and July, you can encounter and swim with dwarf minke whales on the Ribbon Reefs, after they migrate from the Antarctic seas to the warmer waters of the Great Barrier Reef.
Diving September -> December
September through to December sees the water warm up, with generally clear sunny days and light winds. Many coral reef species breed at this time, with the
coral spawning en-masse in October and/or November
. Local Cairns operator Divers Den runs annual dive trips to experience Great Barrier Reef Coral Spawning from downtown Cairns each year.
Checkout dates for the next Coral Spawning night dives.
Manta rays are commonly spotted in the Coral Sea from April to October. The air temperature at this time ranges from 20-32°C (68-90°F) and the water temperature usually averages 27°C/80°F.
January through April is a wetter season, with tropical monsoon weather bringing amazing feeding and marine action, plus a great opportunity to see juvenile fish following the breeding season.
Manta rays are also commonly spotted on the Great Barrier Reef at this time. The air temperature ranges from 23-32°C (74-90°F) and the water temperature averages 29°c/84°F.
Cairns Diving Weather by Month
| | | | | | | |
| --- | --- | --- | --- | --- | --- | --- |
| Month | Air Temp Max°C | Air Temp Min°C | Av. Humidity % | Av. Surface Water Temp°C | Av. (land) Rainfall (mm) | Av. Rain Days |
| January | 31.5 | 23.6 | 75 | 29 | 405 | 17 |
| February | 31.1 | 23.7 | 78 | 28.8 | 434 | 16 |
| March | 30.5 | 23 | 78 | 28.3 | 424 | 18 |
| April | 29.2 | 21.5 | 78 | 27.3 | 198 | 15 |
| May | 27.5 | 19.9 | 77 | 25.9 | 100 | 12 |
| June | 25.8 | 17.6 | 74 | 25.5 | 49 | 9 |
| July | 25.6 | 17 | 74 | 25.1 | 30 | 7 |
| August | 26.5 | 17.5 | 71 | 24.7 | 27 | 8 |
| September | 27.8 | 18.6 | 67 | 24.9 | 35 | 6 |
| October | 29.4 | 20.5 | 66 | 25.4 | 38 | 7 |
| November | 30.6 | 22.2 | 67 | 27 | 89 | 9 |
| December | 31.4 | 23.3 | 70 | 27.8 | 176 | 12 |