Meet Our Spirit of Freedom Team
Get to know our exceptional crew members that work aboard Spirit of Freedom before you join us!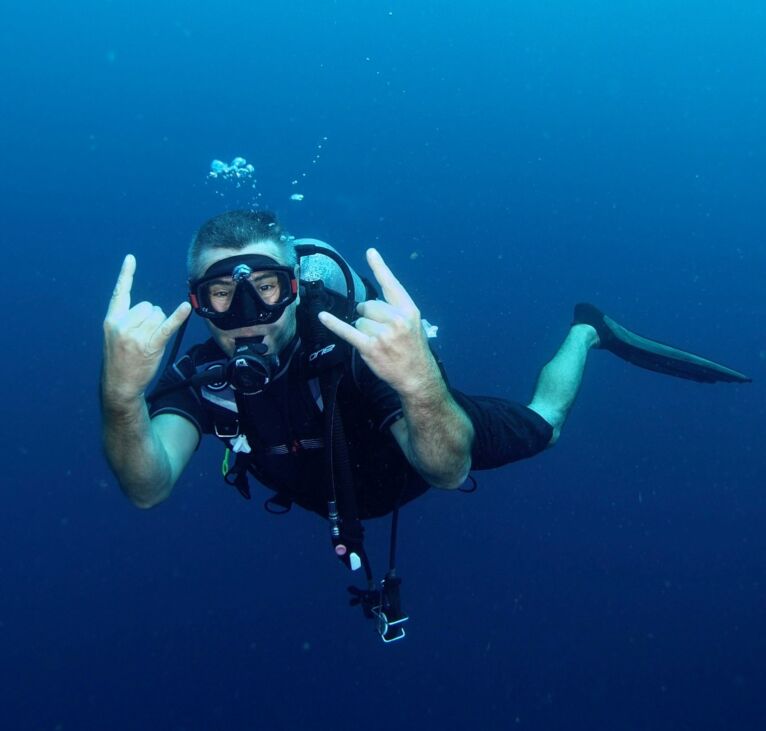 Captain Tony Hazell
Behind every epic adventure, there is an epic Captain. We would like to introduce you to our very own Tony Hazell.
Tony has been leading our adventures for 15 years. Having worked exclusively on Spirit of Freedom and in his own words "She has been my love and life for the last 15 years", Tony has plenty of experience to share.
Tony fell in love with Scuba Diving at age 14, after being an avid Snorkeller for some years. With over 10,000 dives and having completed over 300 expeditions aboard Spirit of Freedom, you know you are always in the hands of one the best.
Over the years he has visited some amazing dive sites and seen some unbelievable marine life. Two of his favourite dive sites are 'Epic' near Raine Island, and 'Deep Turtle' at Holmes Reef where he can spot some of his favourite marine life, the Sharks!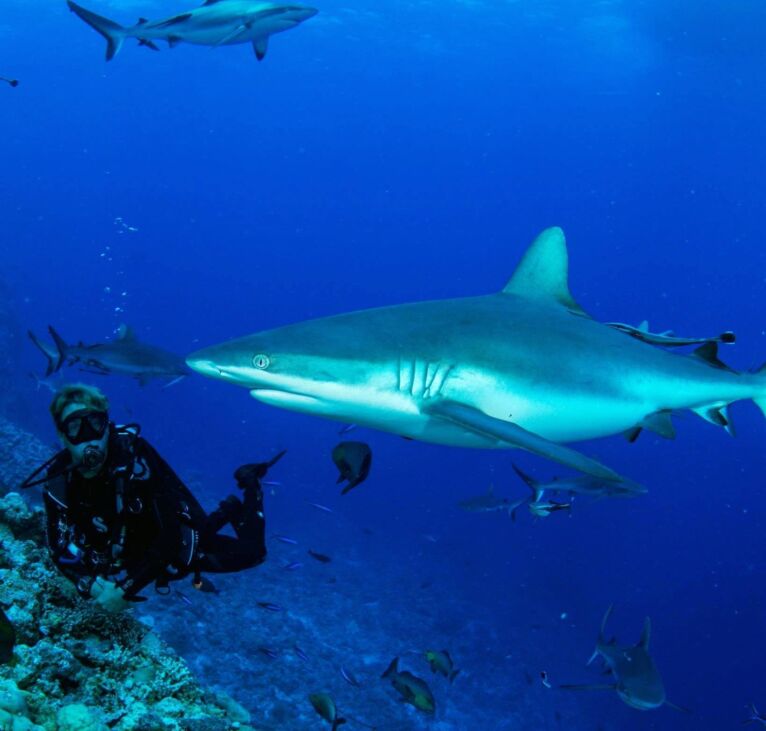 Trip Director James Webb
James first fell in love with Scuba Diving in Ginnie Springs, Florida, which has a very different dive terrain to his home today on Spirit of Freedom.
He joined the Spirit of Freedom team six years ago and now has over 6000 dives under his belt!
Since 2016, North Horn at Osprey Reef has become James's favourite dive site because "no two dive sites are ever the same". North Horn is the location of our famous Shark Dive, but this unique site is also home to many of the world's most spectacular underwater animals; including James's favourite animal, the Manta Ray.
James has a passion for diving and travelling, he is hoping to lead you on the most amazing dives this year.... and of course, to do some more exploring of his own.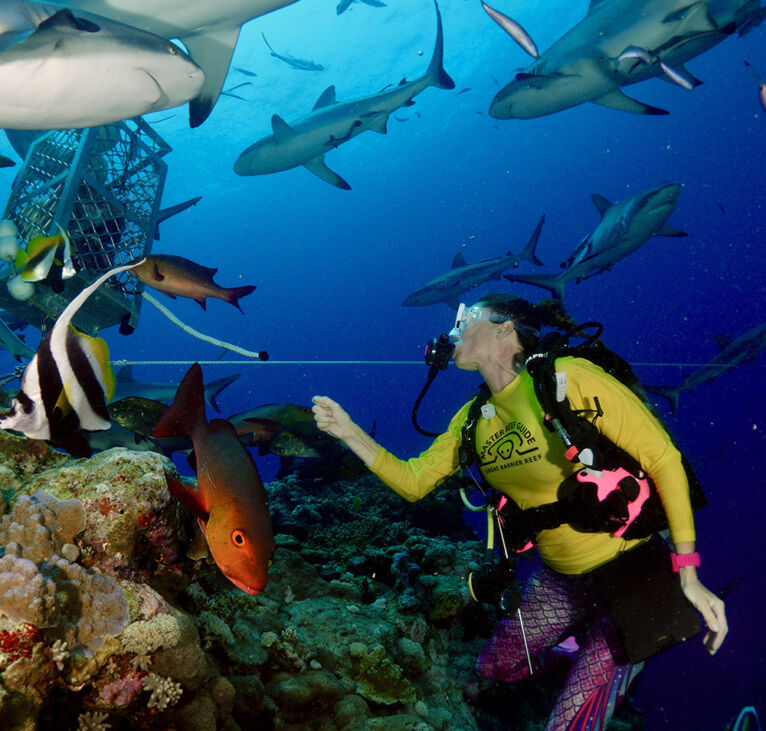 Master Reef Guide Michelle Barry
12 years ago, Michelle booked a one-way flight from California to a place sight-unseen, based on one conversation that Cairns, and the Great Barrier Reef, were something to behold. Initially, she was only going to stay for one year, but she fell so hopelessly in love with the GBR and Spirit of Freedom, that she couldn't imagine being anywhere else. Michelle's first trip on Spirit of Freedom was in early 2012, and she was hooked from her first moment on board.
Michelle fell in love with diving in Belize in 2007 on a girl's trip with her mom. ''Out snorkelling on the second largest barrier reef in the world, I happened upon two scuba divers below taking close-up photos of a nurse shark. I was so jealous! I wanted to lay in the sand with that beautiful creature and swim around underwater among vast schools of fish. I knew then and there I had to learn to dive and that I would love it.''
Michelle is a very experienced diver, with over 7,000 dives under her belt now (she thinks - she stopped logging 6 years around 3,500 dives when she ran out of paper!), you know you're in good hands when on board with Michelle!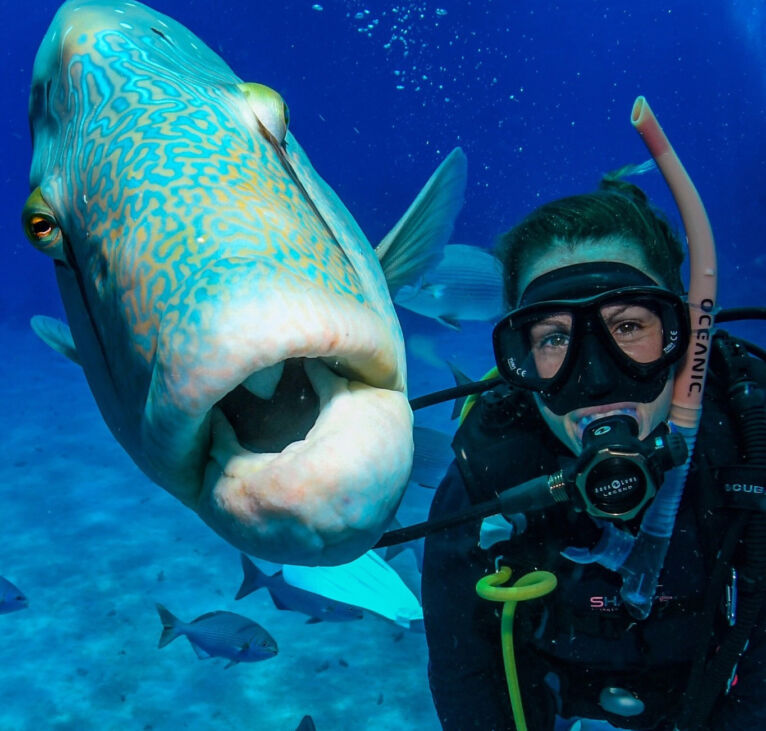 Trip Director Mel Alps
Mel first experienced the wonders of the underwater world in Egypt and an unfortunate leaky mask didn't stop Mel from falling in love with diving. With a mask full of water and a smile, Mel booked her second dive immediately.
With over 2000 dives, she learnt her trade in New Zealand and is a PADI Master Instructor. Mel joined the Divers Den family over four years ago and has become one of our legend Spirit of Freedom Trip Directors since the relaunch back in December 2021.
The famous Steves Bommie is Mel's favourite dive site due to the abundance of marine life you have the possibility of meeting there. You can see everything from Stonefish, Pipefish, Nudibranchs and Octopus to Turtle Mantis Shrimp, Nemo and Mel's favourite underwater animal, Sharks!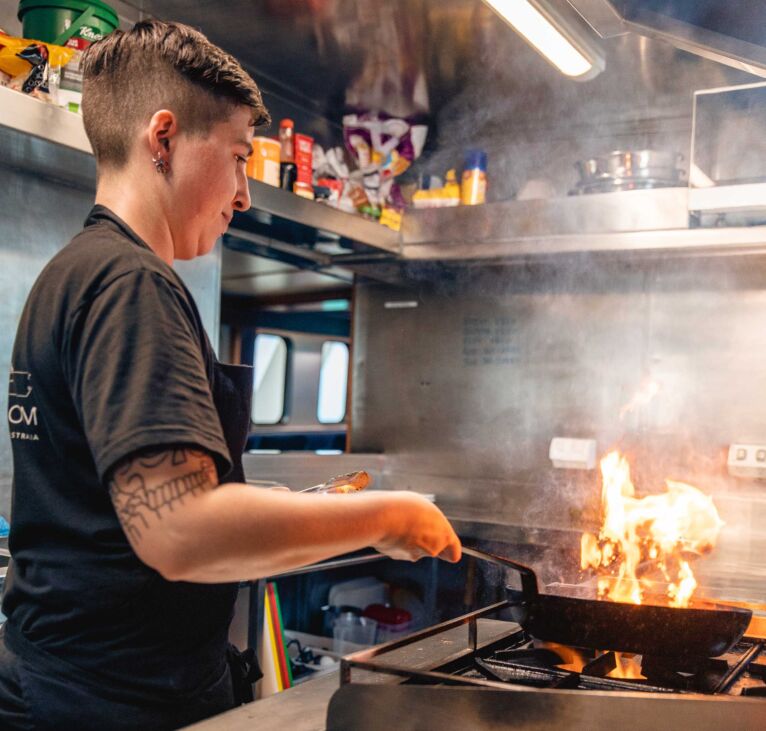 Chef Nathalie
Nathalie has a passion for both food and travelling, having travelled the circumference of the world more than twice and both lived in and visited a variety of very different countries. She initially learnt to cook from her parents, who taught her dishes from their respective countries (Nathalie's mother is Algerian-French and her father is Irish).
Nathalie then went on to become an apprentice in the Bistro 443 in France and studied Culinary Arts in the Lycée des Métiers de l'Hôtellerie et de la Restauration in Blois, France. Her career highlight is working at the Michelin-starred restaurant "The Omnia" in the ski station of Zermatt in Switzerland as a Chef Saucier.
Nathalie first fell in love with diving aboard Spirit of Freedom. She joined the Spirit of Freedom team almost a year ago and now has 6 dives under her belt!
The Shark feed dive site has fast become one of Nathalie's favourite dive sites because of the beautiful sheer walls set like an auditorium, perfect for viewing the feeding. Good thing, since her favourite marine animals are sharks. Specifically Thresher sharks, White tip sharks and Whale sharks as well.